The Apple Watch is an amazing fitness tool! It calculates your calories, tracks your steps, and keeps you breathing all without any effort at all. You can check Apple Health for an overview of your day, see your habits, and keep all of your data at a glance. And that's only what's happening without using any extra apps! The Apple Watch keeps you in touch with your friends and family by letting you answer calls and messages directly from your wrist. It keeps track of the time, sure, but also of your daily to-do list and appointments, and can even give you directions. With all of these fantastic features it's easy to see why the Apple Watch is the best selling smartwatch in the world.
What about Complications?
All of that doesn't even take into account Complications. Complications are one of the best features of the Apple Watch. These mini apps live directly on the face of your Apple Watch, keeping more of the information you love at your fingertips. Complications are a defining feature of the Apple Watch. By customizing them you can create a tailored fitness Watch experience. No need to use an interface that doesn't suit you. Everything on the Apple Watch face is customizable.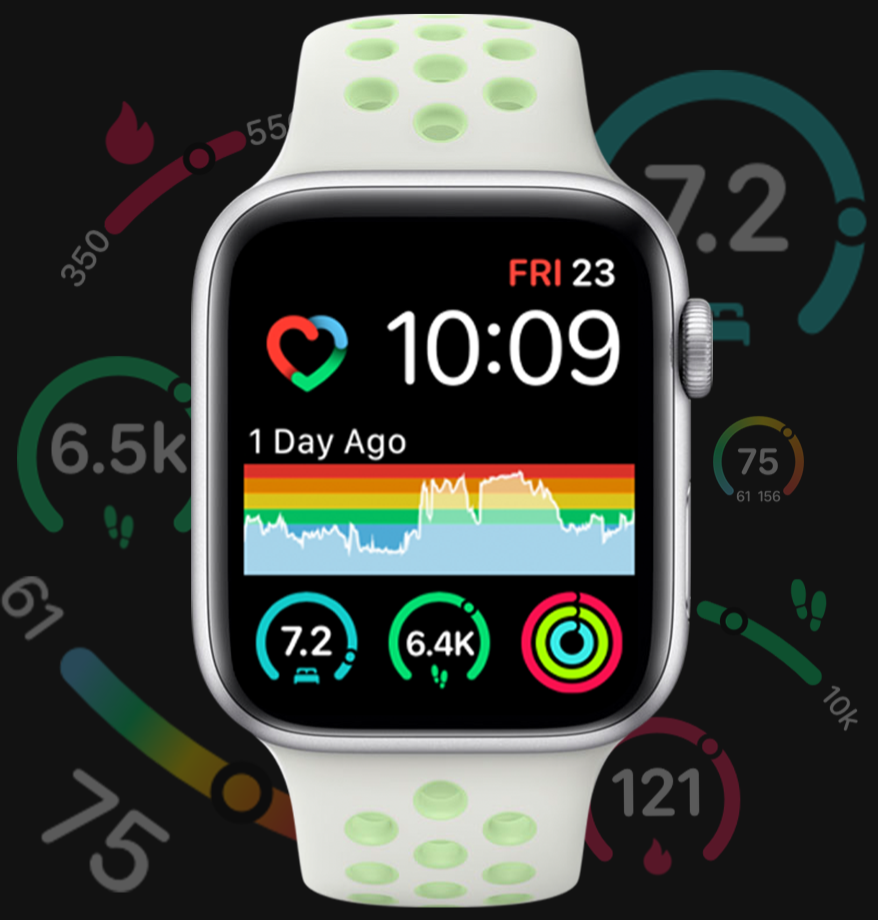 FITIV Pulse has recently unveiled 11 entirely new complications to leverage the new watchOS 7. This means that there are more options than ever.
How do I share my custom Watch face?
When you have created a cool Watch face it's natural to want to share it. Why not give your friends the gift of the ultimate Complication layout? Fortunately with iOS 14 and watchOS 7 it's possible to do exactly that!
You can share your Watch face either from your iPhone or the Apple Watch itself!
To share your Watch face from the Apple Watch just swipe to the face you would like to share, press and hold the Watch face until the customization options appear, and tap the export button. From here you can easily send your face to one of your contacts.
From the iPhone Watch app you can also share your custom Watch face. In MY FACES just tap on the face you would like to share and tap the export button at the top right-hand corner of the screen to export to whoever you want whenever you want. It's that easy! Just tap, share, and done.
Want to try one of our Custom FITIV Watch faces?
Want to explore some of out new watch Faces? We have new custom FITIV Watch faces to explore! Tap on one of the following Faces on your iPhone to add it to your Apple Watch, and test out our new features:
* Custom Faces require watchOS 7, download Watch faces by tapping the buttons above on your iPhone
Ready to check out what FITIV Pulse has to offer? Download today!